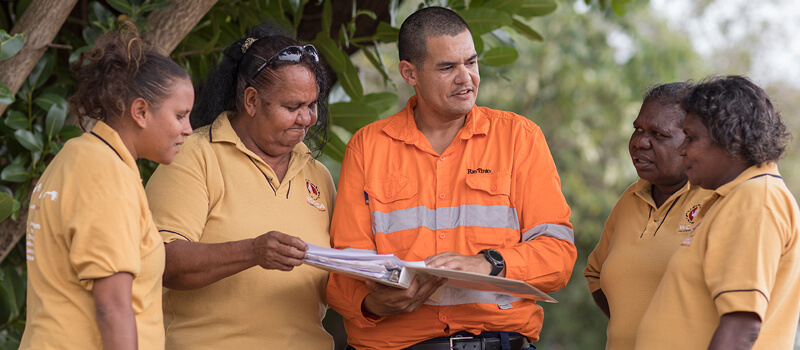 Community engagement. Photo used with permission from Rio Tinto.
Project website and eLibrary. The project website and eLibrary serve as an online repository of public literature and other resources on the social aspects of mine closure. The library is fully searchable by country, company, commodity, lifecycle and other key indicators. As new materials are published, they will be added to the library.
Government engagement. Good practice guidelines and our consortium partners note that involvement of governments is critical to successful mine closure. This project will identify current government closure priorities in key Australian mining states.
Indigenous groups, land rehabilitation and mine closure: exploring the Australian terrain. CSRM's work over the past decade has identified environmental and rehabilitation activities as a key opportunity to enhance indigenous participation in mining. This scoping study seeks to explore whether indigenous ranger groups in Australia could provide 'environmental services' for mined land rehabilitation, mine closure and post-mining futures.
Closure regulation and bonds. The focus of this project is on closure bonds, the predominant type of financial provisioning used in the mining sector. Global in scope, the project seeks to identify key characteristics of closure bonds. It also provides a framework for assessing the utility of bonds (a mechanism designed primarily to support environmental rehabilitation) in supporting the social aspects of closure.
Closure landscape database. The project aims to systematise the data landscape of mine closure to support research and planning efforts. A stable crosscutting data platform is being developed that will be available to multiple end users.